Letter of Commitment of ASI-艾萨 Synthetic Lubricants

Selling from 1999, NO BREAKDOWN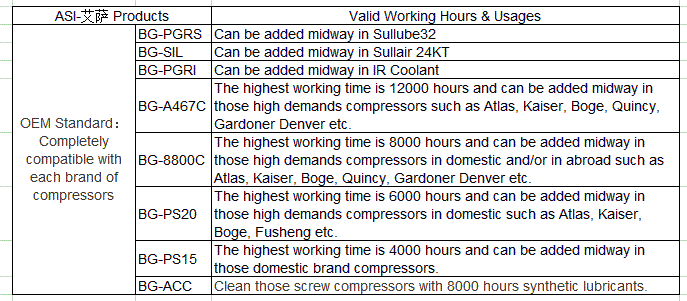 We request our clients to comply with the principles about life cycle of lubricants provided by original compressor manufacturers: 4000 hours or change within half year, 8000 hours or change within one year, 80000 hours or change within 10 years. Conforming to above changing rules, the ASI-艾萨 synthetic lubricants provided by our company can be blended in those orginal lubricants. During the usage, if our products result in compressor breakdown or screw siezure, our company will undertake all maintain expense.
Quality Guarantee Terms: Same as those spare parts quality guarantee terms provided by original manufacturers.

Added Services

In order to assist with equipment management persons and distributors to know about life cycle of lubricants, our company specially provides lubricants detection services. Make clients know attenuation degree of lubricants during usage. Well use lubricant, save cost and extend life cycle.
Shanghai Boge Trading Co., Ltd